A quick reminder that we have a special Birthday celebration after Chenrezig Puja. Hope to see you all there.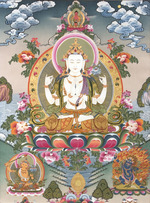 Chenrezig Sadhana Practice Wednesday June 25th
6:00 pm DVD teaching by Lama Kathy about Chenrezig Puja by Lama Kathy
7:00 pm Chenrezig Puja in Tibetan
7:15 pm Celebration of His Holiness the 17th Karmapa's BirthdayTo learn more about Chenrezig Practice, please click here: http://goo.gl/8HR3j
Instructions and practice will be lead by Ani Karma Sherab Khandro. Ani is a practitioner of many years, she is a Buddhist Nun and a student of Karma Thinly Rinpoche and the former Kabje Kalu Rinpoche. Beginners and Newcomers are welcome, bring Ani your questions and she will answer them.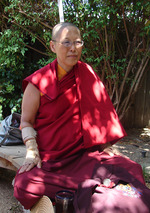 SANTA MONICA KTC
1008 11th Street in Santa Monica  Room #303
Corner of 11th and Washington Ave.
Park in 'church parking' underground parking, enter on 11th Street.
When you arrive at the Church, walk up the spiral ramp to the 3rd floor and we are in room #303.
For information on any event, call Daniel: 323-424-7894